Magi House Relais is located in the historical center of Sorrento on Via Padre Reginaldo Giuliani, one of the most characteristic streets of Sorrento.
We are located in a strategic position: you will not need either the car or public transport to visit Sorrento, and you can get almost anywhere on foot.
The beautiful cloister of San Francesco and the public gardens overlooking the sea are 50 meters from our Relais, a proximity that makes this Relais an ideal place in Sorrento if you are a guest at one of the many weddings that take place in the cloister of San Francesco and the adjacent cathedral.
Piazza Tasso, Sorrento's main square, is located a hundred meters from Magi House, where you can enjoy pleasant walks among the most trendy shops and fashion boutiques. Near the Relais, you will find artisan workshops where you can buy a pair of sandals made by hand or hand-carved wooden objects and the famous art of Sorrento inlaid wood. In addition to the shops and attractions, there are also excellent gelato shops around Magi House.
If you wish to organize excursions in and around Sorrento while avoiding the stress of the car, the location of the Magi House is strategic: Pompeii, Herculaneum, and Naples can be reached by Circumvesuviana train and the station is located about 200 meters from the Relais.
Positano and Amalfi, as well as all the towns of the Amalfi Coast, are connected to Sorrento by the SITA bus, which stops about 200 meters from the Relais.
Capri and Ischia hydrofoils and ferries in the summer also reach Positano and Amalfi. The port is located about 300 meters from the Relais.
---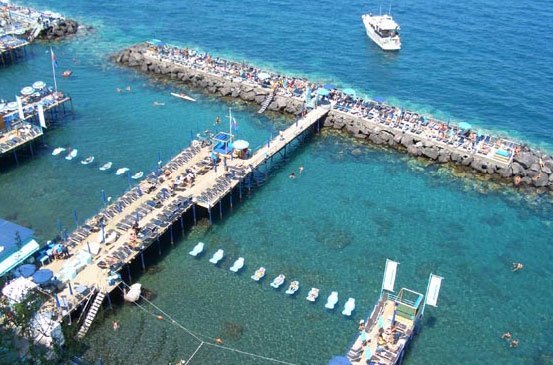 Public Lift Service To The Port And Beaches
Magi House Relais is one of nearest accommodation of Sorrento to the elevator that reaches the beaches and the port.
It is located only 50 meters from the lift, situated in the beautiful public gardens.
A ride on the elevator will cost only 1 euro with some incentives and discounts for seniors and children. With almost no impact on the price of your holiday.
Sorrento is located about 50 meters above the sea level and this can sometimes make it difficult to reach the beaches and the harbour.
For this reason, the town of Sorrento has decided to make two lifts in order to meet all its citizens and tourists needs.
From here, you can choose the beach to enjoy your summer days or go on a trip by boat or hydrofoil to discover all the wonders of the Sorrento peninsula and its surroundings has to offer, such as Capri, Ischia, Naples.